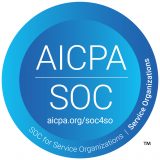 We are pleased to announce that VNET, the area's leading MSP for business, has received its SOC 2 Type II compliance certification.
SOC 2 is an in-depth audit conducted by an external party, resulting in a detailed final report that closely examines a company's information systems to ensure they meet five principles of trust established by the American Institute of CPAs (AICPA): security, availability, processing integrity, confidentiality, and privacy. SOC 2 certification is awarded to businesses who demonstrate their ability to meet the institute's high standards in each of those categories. The certification underscores VNET's commitment to safeguarding customer data over time.
VNET's SOC 2 Type II examination was performed by HBK CPAs and Consultants.